life is a journey, enjoy the ride
 We offer you a personal service, customization events, different vehicles and boats in a prime location directly on the Leie. Company or private, we make it an unforgettable experience!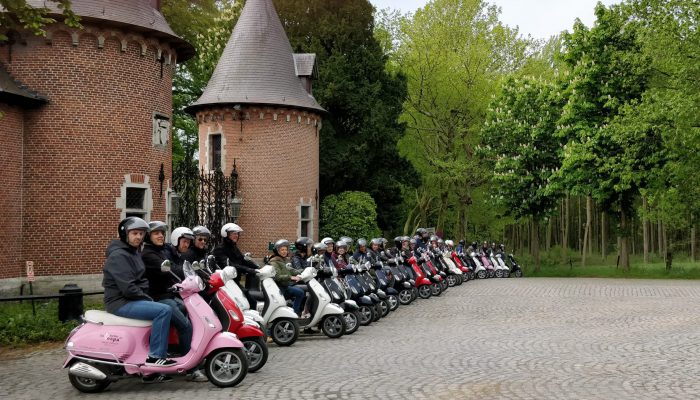 Vespa rental starting from €25. La Bella Vespa is a family business specialised in organising Vespa tours, corporate events and teambuildings. We offer you the opportunity of a pleasant and comfortable way of enjoying a relaxing tour on a trendy, hip 50 cc Vespa with your colleagues, clients or friends. You and your group can enjoy the scenic Leiestreek with the artists' village Sint-Martens-Latem. the picturesque Deurle, one of the most beautiful villages in Flanders, and the surroundings of Ooidonk Castle. Alternatively, tour through the wonderful rolling hills of the Flemisch Ardennes, the Tuscany of Flanders or the centre of Ghent. You can choose from various routes, whitch can be combined with a romantic boat trip on the Leie and one of our restaurant arrangements. We can also propose alternative routes and restaurants at any desired location on request. 
Our ecological alternative, Evo Maxx
The EVO-Maxx is for every one. 
Whether you are young or old, private or business, want to drive, cruise together or just the two of you, on the EVO-Maxx you want to be seen. 
With the EVO Maxx you drive where you want to go without noise, pollution and extremely low emissions of particulate matter and CO2. 
At La Bella Vespa you can rent or buy this vehicle. To drive our EVO Maxx, you do not need a driver's license (from the age of 16). 
We are an official dealer of Evo Maxx.
For more information go to: www.evomaxx.be
Open between 10:00 – 20:00
Opening hours 10.00 – 21.30
Beukenlaan 65 – 9051 Gent